KSC - Part 5: Internal documents proving Iran's top steel exporter Khuzestan Steel Company is controlled by the IRGC and provides it with financial support
In the last few weeks there has been plenty of public interest in UK and EU declarations regarding possible designation of the IRGC as a supporter of terrorism. This, largely due to Iran's role in supporting Russian invasion of Ukraine with arms shipments, namely - "Shahed 136 suicide drones".
WikiIran exposes here additional confidential information and documents from the Iranian steel company "The Khouzestan Steel Company (KSC)", which is controlled by the IRGC, and its financial and material (steel) support of both the IRGC and its subordinate- the paramilitary Basij Force.
For long enough, the IRGC has been accused of large scale violations of Human rights internally and promoting terrorism abroad. For these reasons it was designated by various international sanctions regimes: U.S., Europe and Great Britain. Therefore, any business connections with Khuzestan Steel Company profits the IRGC and its malign activities.
Khuzestan Steel is funding the IRGC Cooperative Foundation with dividends from its earnings passed through Payandegan Investment Co., a holding firm, utilized by the IRGC to maintain its control over the company.
Furthermore, KSC funded, both financially and by suppling steel products as credit, IRGC and Basij units infamous for their part in violent crackdowns over peaceful protests: IRGC "Vali Asr Command Center" in Khuzestan province, and the Shahid Baghaei unit of the Basij in Behbehan, Khuzestan.
Here's some scanned letters regarding KSC's financial support of the Basij Force: first letter, second letter.
A letter that KSC's head of management and finance intended to transfer to Salami, Commander of the IRGC: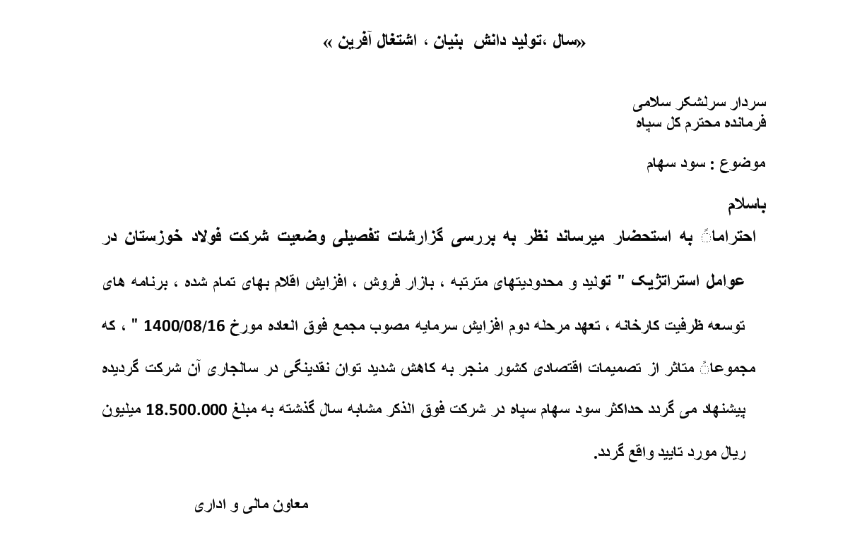 In addition, here's a presentation of KSC's planned profit payout for the Persian year 1401, as intended to be transferred is attached to the letter above.
Here's additional evidence of IRGC's secret ownership over KSC and benefits arising from that: download the zip here.
Finally, here's a status update of a letter KSC's CEO sent to the head of the IRGC's department of construction and economy regarding its difficulty in approving IRGC's request for over 25 million USD of credit in favorable terms.