another exchange house enabling Iran to evade international sanctions with the use of Front-companies
WikIran is exposing yet another top tier Iranian exchange house, which is a part of the "shadow banking" infrastructure. Amin exchange house, also known as Ebrahimi and Associates Guarantee Society, is one of the leading exchange houses in Iran. It is located in the Northwestern city of Tabriz, the capital of the East Azerbaijan province. In the past, WikIran has exposed Zarrin Ghalam and Tahayyori exchange houses. Now, we are exposing AMIN exchange house.
Amin exchange house manages a network of approximately 70 front companies operating out of at least 35 different Banks in at least 3 countries. It is noteworthy that 37 of those companies (or more) are operating from China. Those front companies (with 240 bank account) are making transactions using Emirati Dirham, US Dollar, Euro, Chinese Yaun, Russian Ruble, Turkish Lira, and Canadian Dollar.
The Amin Exchange uses an illegal network of Front companies to complete the transactions abroad. The exchange house is using one of these front companies abroad to then send the money on behalf of the Iranian company to the intended recipient under false pretense. Meanwhile, in Iran, the Iranian company will send the Iranian Rial denomination to Amin exchange , thus completing the transaction. The Central bank of Iran coordinates an illegal network of front companies, operated by various exchange houses, including Amin exchange.
You can download the full table here.
China
UAE
Turkey
Unknown
The front companies used to facilitate these illegal transactions hold bank accounts in major international banks, including: Vakif Bank (Turkey), First Abu Dhabi bank (UAE), Emirates Islamic bank (UAE), Hua Xia Bank (China), Minsheng bank (China) and many others.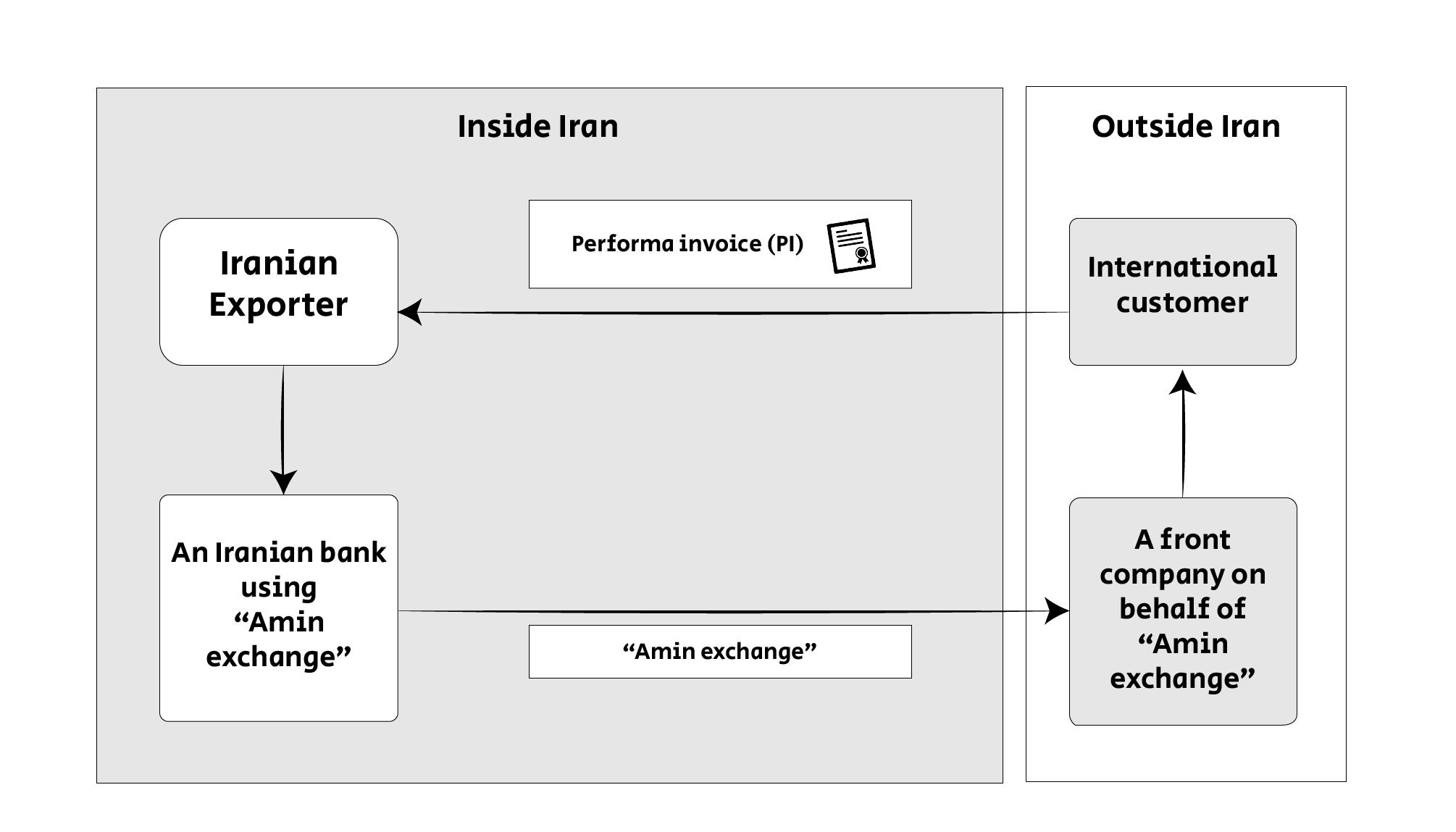 Amin exchange enables the Iran regime and Iranian companies to make illegal transactions in international markets, using its vast network of front companies abroad, while clearing the transaction with its Iranian customer using the Central Bank of Iran's NIMA system.
The NIMA System is the Central Bank of Iran's system for managing Iranian foreign currency exchanges. The system matches the Iranian importer's demands and the Iranian exporter's supply of foreign currency funds by varying fixed forex rates, and documents each foreign exchange conversion between the exporter and the importer. This system helps the Iranian Central Bank improve its control over the Iranian foreign exchange market and prevents a Forex liquidity crisis from hampering foreign dealings